Pfaff Expression 4.0 IDT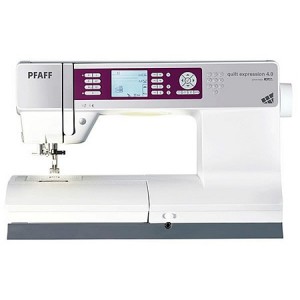 A must for quilting… Pfaff's exclusive built-in IDT, Dual Feed assures flawless, no slip stitching every time, a must for Quilting, or when stitching super light and heavy brocades.
Perfect sewing – Perfect Quilting…
Behind every beautiful quilt… there's a creative mind and a sewing machine to match.
Quilting is a real passion with Millions of enthusiastic quilters around the world prove it. But why is quilting more fun with some sewing machines than with others? The answer is easy, only some sewing machines have that certain "something"… Like the Integrated Dual Feed IDT, that makes sure your piecing is always perfect. Or the unique antique quilt stitches that give a quilt its true hand-stitched character. It's also the ease of use that makes your quilting seem to happen by itself. Intelligent technology, which guarantees that every quilt, made by creative hands, becomes an object of breathtaking beauty and the highest quality. Discover the possibilities with the Pfaff Quilt Expression 4.0 Sewing Machine.
The original IDT feed system guarantees absolutely even fabric feed from top and bottom.

Perfect for sewing or quilting…
Large sewing space.The sewing area to the right of the needle is super-sized for sewing large projects.
A wide variety of beautiful 9 mm stitches. Select from over 200 stitches. Includes utility stitches, buttonholes, 9 mm wide decorative stitches, quilt stitches, cross stitches and hemstitches.
Powerful. The Quilt Expression 4.0's needle-piercing power is electronically controlled and is consistent, even when sewing slowly or through several layers of fabric.
Dual lights. Optimized bright lights illuminate your entire sewing area without shadows.
Illuminated graphic display. The graphic display shows the stitch in actual size and all important information.
Thread Snips. Automatically cuts top and bobbin thread at the touch of a button or wherever you have programmed it.
Two Free-motion modes.Choose between Sensormatic or Spring foot free-motion mode for best results with various techniques and fabrics.
Automatic presser foot lift. Raises the presser foot to pivot position automatically when the needle is set to stop down. The presser foot lifts at the end of a seam after a thread snip.
External feed dog drop. Convenient location to lower the feed dogs from the front of the machine. Ideal for stippling, free-motion embroidery or darning.
Extra presser foot lift. Raises the presser foot to its highest position so that thick fabrics can be placed easily under the presser foot.
Electronic thread tension. Needle thread tension is set electronically for different stitches, makes sewing simple.
Stitch width safety. Limits stitch width to centre needle straight stitch while using straight stitch needle plate and/or straight stitch foot to prevent needle breakage.
Electronic Knee Lift. Raises the presser foot with an easy movement allowing your hands to be free.
Stitch positioning. Moves complete stitch right or left to align decorative stitches.
Easy-access stitch selection. Quick and easy stitch selections using the Direct Selection Buttons.
Automatic Tie-off. Ties off automatically at the beginning and/or the end of a seam for a quick and easy finish.
Stitch sequencing and memories. Combine and save up to 40 stitches and/or letters in one of 20 sequence memories – sew in one step repeatedly.
Personal stitch settings. Change the settings on built-in stitches to your personal liking. Save in one of the 20 personal stitch memories.
Program sequencing commands. Program Stop, Thread Snips or Tie-off into a stitch sequence. Your sequence does exactly what you want every time.
Built-in sewing alphabets. Personalize any project with 3 different fonts.
Needle up/down. Touch a button to set your needle to automatically stop up or down in the fabric for pivoting, applique and more. Or just tap the foot control to shift between needle up/down position.
Bobbin thread sensor. Alerts you when your bobbin thread is running low.
Tapering on all 9 mm decorative stitches! Gradually increase or decrease the width at the beginning and/or at the end. Choose different angles for more creative opportunities.
Twin needle program.Automatically adjusts the stitch width to prevent needle breakage.
Speed ranges. Adjust your sewing speed for specialty threads, techniques or personal taste.
Stitch restart. Instantly returns to the beginning of your selected stitch or sequence.
Mirror image.Flip the stitch side to side and/or end to end for even more creative possibilities.
Languages.Choose from 14 different languages in the Settings menu.
Info Button.Simply touch to see important sewing recommendations on the illuminated graphic display.
37 needle positions.Variable needle positions for precise stitching. Perfect for topstitching, quilting, zippers and more….
Extra-high presser foot clearance.(10,5 mm!). Ideal for working on heavy fabrics and multiple layers. The long extra-slim free arm, perfect for working on tubular items, such as sleeves.
Integrated Needle Threader.Makes threading the needle fast and easy.
Large stitch plate.Markings to the left and right of the needle help you guide your fabric.
Snap-on/Snap-off presser feet.Changing is easy – no screws or other tools are needed – just snap it on or off.
Top loaded bobbin.View how much thread is left on the bobbin.
Bobbin winding from the needle.No need to rethread to wind bobbins when you wind directly from the needle. Winding stops automatically when your bobbin is full.
Permanent Reverse.Your hands are free to guide your fabric.
Sensormatic buttonhole.Makes beautiful repeatable buttonholes on any fabric.
Electronic Needle Piercing power. Full piercing power at any speed with total control. The Button Ruler size, quickly determine your buttonhole size with the help of the button ruler.
Two built-in spool pins.For twin needle sewing or specialty sewing.
The amazing variety of utility stitch programs gives you the right stitch for every fabric. You'll produce the subtle utility stitches usually found only on ready-made garments. Create beautiful quilts, garments, pillows, crafts and more with an incredible array of decorative and pictorial stitches, traditional needlework stitches, beautiful satin stitches and three exquisite alphabets.
Accessory included.Standard foot with IDT, Fancy stitch foot with IDT, Fancy stitch foot, Blind hem foot with IDT, Zipper foot with IDT, Sensormatic buttonhole foot, Manual buttonhole foot, Sensormatic free-motion embroidery foot, Rolled hem foot with IDT, 1/4″ Quilting Foot with IDT, Knee lifter, Hard protective cover, Instruction manual, plus needles and more…