Pfaff Ambition 1.5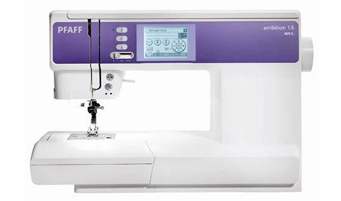 Pfaff Ambition 1.5 Overview
With extra featres the new Pfaff Ambition 1.5 sewing machine has a large high-resolution touch screen display, bright LED sewing light for perfectly illuminated and larger sewing.
Absolutely even fabric feed from both the top and the bottom. IDT is ideal for the quilter and sewer! IDT works with any stitch in forward or reverse at any stitch length or width. Built right onto the machine, it can be easily engaged or disengaged as needed. Everything stays in place when working with fine fabric or several layers. When sewing long pieces of fabric, such as curtains, it feeds both layers evenly along the entire length. Patterned fabric such as stripes always match.
With all the features of the Ambition 1.0 plus more… the new Pfaff Ambition 1.5 is quick-to-use in the way you select stitch functions, everything is at hand at the touch of the bright LCD screen using the supplied stylus. Sew with or without the foot control using the start/stop button, adjust the speed with the speed slider and, if you wish, the machine will tie-off and stop automatically.
A huge list of features come as standard on this Pfaff Ambition 1.5: Large 8″ Sewing Space, 195 stitches, 4 Alphabets, Large High Resolution screen, Touch screen, Three LED Light sources, Free-motion sewing, Needle up/down, Tie-off, 29 Needle positions, Twin Needle program, Stitch Width safety, Mirror image, Blanketstitch, 4 Sequencing memories, Needle Threader, Top loading bobbin, Bobbin thread sensor, Start Stop Button, Speed slider, Snap on feet, External feed drop and more!