Pfaff Creative Vision 5.5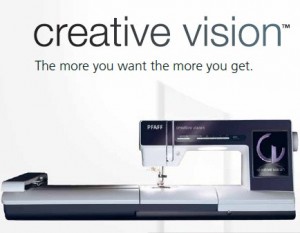 Advanced Pfaff Creative Vision sewing & embroidery machine gives the freedom of space never before experienced on a sewing machine. Be creative and stitch out embroidery designs probably larger than the monitor screen you are viewing this page on..! yes, upto a massive 360mm x 350mm designs are available using the dream hoop.
If we were to list all the features on Pfaff's new embroidery machine this page would be nearly as long as the Creative Vision with the embroidery unit attached… and that's big, at 87cm! So may be a short overview will be the best option, or better still find out yourself!
Not only a great sewing machine, but also a fantastic embroidery machine. Our Creative Vision comes with software, that when loaded onto your PC will allow the 4D Quick Font wizard to convert any true type font on your PC, into embroidery data, then using the inclusive 4D Organizer software and USB memory stick, quickly transfer the new design to the machine. There's no card slot needed. May be you've downloaded designs from the Internet in any one of the popular machine formats. Simply use 4D Organizer to convert designs into Pfaff's .vp3 design format, save it to the memory stick and pop it into the machine.
Many of the 9mm wide stitches are brand new, in fact there are 200 new stitches never seen before and if that's not enough, you can create new stitches or edit built in stitches for unlimited creativity using the stitch creator program. You really can see what's happening on this HD colour touch screen with high end resolution displaying stitches in actual size and embroidery designs in 3D true color. The intuitive screen layout is clear, well-designed, and easy to use.
Select one, several or all designs on the HD screen in embroidery to move or adjust the designs. All stitches can be sewn in the embroidery hoop to create unique embroidery designs, yes even regular utility stitches.
Because of its super-sized embroidery area, the sewing area to the right of the needle has been super-sized for sewing huge amounts of fabric and batting. There's plenty of storage for accessories too. Three built-in trays keep accessories close at hand with removable compartments for presser feet and bobbins.
As usual Pfaff's unique IDT feed system is available when needed, as is Precise Positioning to combine designs and elements to create embroideries of unlimited size quickly and easily. Plus all decorative stitches can be tapered at both the start and finish. Changing angle of taper is possible for unlimited creative opportunities.
Brand new 5.5 features include automatic Cut Jump Stitch, tapering with patchwork, new beading and candlewicking stitches, and the ability to see how much time it will take to embroider a colour block. Yes it has a lot of functions.. view the video and download the brochure we have available…
Pfaff Quality and workman ship
And of course the latest creative vision 5.5 includes the pfaff exclusive IDT, which gives you controlled, no-slip sewing because the fabric is fed evenly from both top and bottom and because it is built in, PFAFF Dual Feed is always there when you need it!.