Pfaff Coverlock 3.0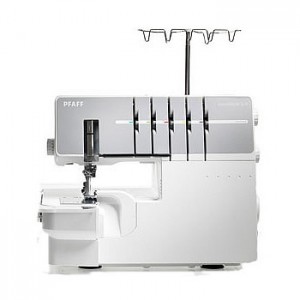 The Pfaff Coverlock 3.0 overlocker and cover hem machine is the perfect choice for sewing enthusiasts who want to give their work a professional finish. Imagine perfect hem edges, trimming cut-outs or attaching elastic. It can do this all in one operation.
With clear and simple thread tension instructions on the stitch panel, colour coded threading paths and special threading levers this Coverlock 3.0 is a dream to use.
It has upto three needles, five threads and 23 stitch programs to give you the freedom to make all of your ideas a reality. Absolutely even seams! Differential feed prevents seams from stretching or puckering. The differential feed can be individually adjusted as needed.
Adjust the Differential feed dial and set for, stretch Light fabric to avoid ruffling in the seam. Knitted fabric to give a wave like effect.

Set for, Gather Knit fabric to avoid stretching in the seam or a Gathering effect on light fabrics

The Pfaff 3.0 Coverlocker has 23 stitch programs for perfect sewing, trimming, and finishing in one step.
Perfectly even seams! The differential feed prevents seams from stretching or puckering. Sew rolled hems easily without changing the presser foot or needle plate. All important settings are within easy reach on the outside of the machine. The presser foot lift is conveniently placed, leaving your hand free to hold the fabric.
Easy threading! All threading paths are color-coded.
The thread chain cutter is conveniently placed!
A universal standard presser foot is included for sewing all stitches.
High presser foot lift to accommodate several layers and heavy fabrics.
Each fabric is optimally fed.
Presser foot pressure can be individually set.
Perfectly stable, thanks to the rubber feet.
All included! Lots of accessories in the practical accessory box.
Change the presser foot? Easy on and easy off, thanks to snap-on system.
Detailed instructions in the manual including many illustrations.
The dust cover protects the overlock /serger when not in use.
The decorative 2-thread flatlock stitch is extremely flat. Perfect for decorative effects.
Quick needle threading! With needle threader. Practical!
Use the needle inserter to change needles quickly and easily. In addition, integrated threading levers to thread loopers easily.
Safety first! When the front cover and /or swivel plate is open, it is impossible to use the overlock /serger.
The 5 mm cover stitch for sewing and hemming in one step or for creating fantastic, decorative effects.
Included is the extension table giving generous work area with the sewing table in place! For large thread spools and to have more room when sewing, simply slide the spool holder to the back.
Durable stitches with the double chain stitch! Professional stitching with the 5-thread safety stitch!
Ease of use, simply change needle positions, switch to the sewing table, disengage the knife and you are ready to sew a coverstitch.
True industrial seams! The 5-thread overlock stitch and the double chain stitch for heavy-duty seams.
The stitch length can be fine tuned in small increments. Adjustable stitch width and stitch length.
The 5mm cover stitch can hem and serge all in one operation. Use it for sweatshirt hems, sewing on elastic. Fantastic results can also be achieved with the cover stitch.
No need to change the presser foot or needle plate when sewing rolled hems.
No stretching of the seams, no puckering of fine fabrics, thanks to the differential feed. Even knitted fabrics will remain perfectly flat. However, if you reverse the differential feed setting, you can create amazing wave like effects.
Use the converter to work with 2 threads. Create the beautiful 2 thread flatlock seam for decorative effects. "Slow sewing" for complex sewing jobs, "quick sewing" for rapid work – two sewing speeds can be set with the foot control.
Regardless of whether you are sewing light or heavy fabrics, whether you are sewing quickly or slowly, the needle piercing power is controlled electronically.
High presser foot clearance for working with several layers or heavy fabrics
Perfectly even seams – The differential feed prevents the seam from being stretched or puckered. Even knitwear remains flat.
Wave like effect can be achieved by reversing differential feed.
Wonderfully practical – the thread chain cutter means no more long searches for scissors.