Pfaff Expression 3.0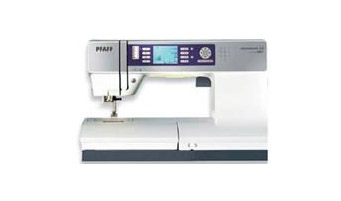 Pfaff Expression 3.0 Overview
One lady owner ! Like new and fully serviced.
To buy new costs €1195 .
Selling now for €895
Pfaff Expression 3.0 Warranty
VSM Group AB warrants this product against defects in material and workmanship to the extents here stated
1. Person Entitled to Warranty Coverage
The warranty is made to the purchaser who acquires this product for his or her normal, personal family or household use.
2. Countries Where the Warranty is Applicable
The product may receive warranty service in the countries listed in this warranty document.
3. Duration or Warranty
The duration of this warranty is two (2) years from the date of purchase.
4. Parts and Conditions Not Covered by Warranty
Needles, light bulbs, belts and overlock knives are not covered by this warranty. Nor does this warranty cover conditions unrelated to the material or workmanship of the product.
Such unrelated conditions include, but are not limited to
damage caused by current or voltage other than that stamped on the name plate of the product or abnormal electric conditions (ie electric storms)
damage resulting from the failure to provide normal maintenance
failure to follow Pfaff's instructions for the use of the product
any accident to, or misuse of, any part of the product
any defects or damage caused by service or alteration by anyone other than Pfaff or an authorised Pfaff dealer
any defect or damage caused by use of non original accessories or parts
5. PFAFF's Obligation under Warranty
During the first two years after date of purchase, both parts and labour will be provided free of charge. Any item which is replaced will not be returned to the purchaser and becomes the property of Pfaff. All transportation costs which are required because of service will be the responsibility of the purchaser.
6. Commercial Limited Warranty
Products used commercially are warranted for six (6) months parts and labour excluding belts, hooks, light bulbs, needles, needle plates, and overlock knives. No further warranty applies to Pfaff products used commercially
7. Procedure to Obtain Performance of Warranty
To obtain the benefits of this warranty, the product or the part believed defective must be delivered during the period that this warranty is in effect, to the authorised PFAFF dealer from whom it was purchased.
If after the time of purchase the owner moves to another place in any of the participating countries listed in this document, she/he may contact the national Pfaff sales company in order to locate a nearby dealer authorised to provide warranty service.
The warranty will be granted only if the original invoice or sales receipt ( indicating the date of purchase, product and sellers name) can be presented together with this document and the information contained within is complete and legible.
This warranty does not affect the consumer's statutory rights under applicable national legislation in force, nor the consumer's right against the dealer arising from their sales/purchase contract. In the absence of applicable national legislation, this warranty will be the purchaser's sole and exclusive remedy and neither Pfaff nor its subsidiaries or the distributors shall be liable for any incidental or consequential damages for breach of any express or implied warranty of this product. Registration may be required.
8. Countries Where the Warranty is Effective
Ireland
United Kingdom
France
Germany
Austria
Norway
Switzerland
Belgium
Netherlands
Luxembourg
Italy
Sweden
Denmark
Czech Republic
Finland
Iceland
Spain
Estonia
Poland
Greece
Portugal
Lithuania
Hungary
Latvia
Warranty information is taken from Pfaff Warranty cards and is subject to change