Pfaff Expression 3.0 IDT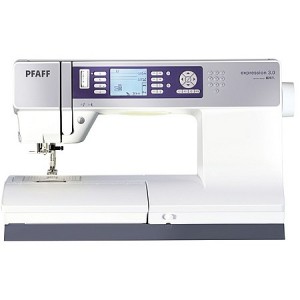 The Pfaff Expression 3.0 also offers the greatest ease of operation. In addition to the 10 personal stitch settings, personal program sequencing commands, program stop or tie-off into a stitch sequence. Your sequence does exactly what you want every time.
Letters and combinations of numbers can be called up easily. You can even store words in up to ten memory locations, sew each one in a single pass and sew them again, any time you want.
The original IDT feed system guarantees absolutely even fabric feed from top and bottom. A unique selection of perfectly stitched high-quality 9 mm stitches will inspire new ideas.

Perfect sewing…
Discover the possibilities and amazing variety of utility stitch programs gives you the right stitch for every fabric, including:
* Drop the feed, for free-motion quilting and embroidering.
* Overlock stitches for knits and fabrics that tend to fray
* A precision-stitched eyelet in a variety of diameters
You'll produce the subtle utility stitches usually found only on ready-made garments. Create beautiful quilts, garments, pillows, crafts and more with an incredible array of decorative and pictorial stitches, traditional needlework stitches, beautiful satin stitches and two exquisite alphabets.
9 mm wide stitch width
153 stitch programs, the right stitch for every sewing Idea.
38 utility stitches
8 buttonhole styles inc Key hole, round and stretch.
12 pictorial stitches
18 satin stitches
9 cross-stitches
23 unique quilt stitches
6 hemstitch programs
1 Basting Stitch
2 alphabets including the figures 0-9 and Cyrillic
1 eyelet
20 memories each with 40 stitch sequences
37 needle positions for perfect seams.
Dual lights. Optimized bright lights illuminate your entire sewing area without shadows.
Ties off automatically at the beginning and/or the end of a seam
Tapering on all 9 mm decorative stitches
The graphic display shows the stitch in actual size and all important information.
Twin needle program automatically adjusts the stitch width to prevent needle breakage.
Sensormatic buttonhole function
Automatic needle threader
Electronic speed control
Adjust your sewing speed for specialty threads, techniques or personal taste.
Hard protective cover
Pattern mirror button
Needle lower/raised position button
The sewing area to the right of the needle is super-sized for sewing large projects
Choose from 14 different languages in the Settings menu
220/240Volt or 110/120Volt Switch
So easy to use…
At the touch of a button, the Pfaff Expression 2.0 also offers the greatest ease of operation. Skim quickly through the stitch programs by stitch number.
"Needle up / down" button, when sewing stops the needle remains in the fabric, indispensable for precise sewing and pivoting.
"Tie off" button, at the beginning and end of a seam you can automatically tie off the thread ends.
"Sew Slow" button, for particularly tricky sewing projects, reduce the sewing speed for greater control.
"Pattern mirroring" button, easily mirror decorative stitch patterns for a unique look.
Drop the feed, for free-motion quilting and embroidering.
Accessories included.. Quilting bar, Buttonhole foot – Sensormatic, Buttonhole foot – Manual, Zipper foot, Zig-Zag foot, Blind Hem foot, Satin stitch foot, Fancy stitch foot, Free hand embroidery foot, Rolled hem foot 3mm, Edge guide, Seam ripper, Set of needles, Bobbins (4), Lint brush, Spool cap (S, M, L), Button sewing tool, Thread net, Bulb remover, Screwdriver, Instruction book, Foot control, Hard Protective cover.