H|Class 600E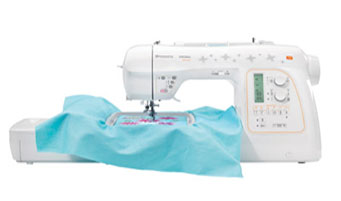 TWO EMBROIDERY HOOPS INCLUDED
– Create beautiful embroideries in a variety of sizes:
Large 260x160mm (10″ x 6")
Small 100x100mm (4" x 4″)
Hoops are easy to attach to the embroidery unit thanks to the snap-on fastening.
250 EMBROIDERY DESIGNS INCLUDED – A large selection of embroidery designs included to get you started right away.
CUSTOMIZE YOUR EMBROIDERY DESIGNS ON YOUR COMPUTER SCREEN
– Combine multiple designs into one design file and add lettering to personalize your embroidery.
– Select custom colors for your threads. The software includes thread charts with color numbers for the most popular brands of embroidery thread.
– Rotate embroidery designs in one degree increments for perfect placement and design possibilities.
– Flip embroidery designs horizontally and/or vertically or repeat embroidery designs for even more creative possibilities.
– Resize to reduce or enlarge the embroidery design to use it on any project.
LETTERING PROGRAM WITH 20 FONTS – Select from 20
embroidery fonts to personalize your projects. Letters can be
sized, rotated and shaped with 30 lettering frames such as arc,
banner, wave and more. Create letters with a running stitch or satin stitch outline.
MULTIPLE HOOPING – Gives possibilities to embroider
designs up to 480 x 280mm (18 1/2" x 11").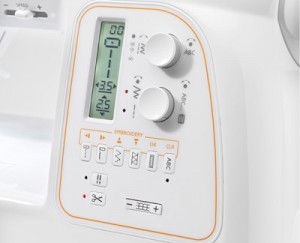 TRACE DESIGN – Trace the outline of the design in the embroidery hoop to accurately position the design.
3D REALISTIC VIEW & PRINT – Stitches appear on the computer screen exactly as they will sew. Print the design to create placement tempIates.
DONGLE FUNCTION FOR SOFTWARE PROGRAM –
Included USB-stick makes it possible use the embroidery software
without being connected to the embroidery machine.
CONNECTS DIRECTLY TO THE COMPUTER VIA USB CABLE
– Quick transfer of designs, no additional hardware or cards are needed.
ADDITIONAL SOFTWARE INCLUDED
AUTOPUNCH™ – Use your own images or clip art to
automatically create custom embroideries.
HYPERFONT™ – Convert your own computer's Windows®
true type fonts into custom monograms and lettering.
EDITING – Enhances the capabilities of the main software
as well as any options installed
– Customize any design
– Edit design sections or stitches
– Edit lettering
– Apply preset or custom fill types to the design to create unique effects or themes.
LARGE SEWING SURFACE – The arm length to the right of the needle is 210 mm, which will give more space to create large projects.
100 STITCHES – For a wide variety of sewing. You will always have the perfect stitch for every project.
– Utility Sewing, stitches specially designed for woven, stretch or specialty fabrics.
– Decorative Stitches make sewing more creative and more fun.
– Heirloom Sewing specialty stitches let you create beautiful heirloom treasures.
– Quilting Stitches give a hand-sewn one-of-a-kind quilted look to any project.
ONE BLOCK ALPHABET for personalizing any project.
EASY STITCH SELECTION – Optimal settings for length and width are automatically set when choosing a stitch. Settings can be changed for your specific fabric and technique.
7mm STITCH WIDTH – Decorative stitches are wide, bold and beautiful.
ONE-STEP BUTTONHOLES – Buttonholes are quickly and easily sewn in a simple one-step process. Both columns are sewn in the same direction to lay smoothly and prevent distortion. Choose from six different styles for various sewing applications.
EXCLUSIVE BUTTONHOLE UNDERPLATE – Makes it easy to create buttonholes, even on thick fabrics or uneven fabric thicknesses.
NEEDLE STOP UP/DOWN – One touch sets the needle to stop up or down for easy pivoting, applique, accurate stitch placement and more.
ELECTRONIC TWIN NEEDLE FUNCTION – Limits the stitch width when using a twin needle on decorative stitches to prevent needle breakage.
DROP FEED – A convenient lever lowers the feed teeth – For free-motion embroidery, machine embroidery, monogramming,
attaching buttons and more.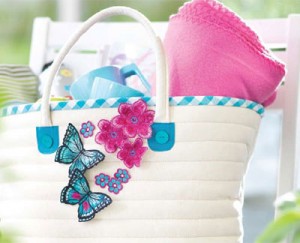 EFFORTLESS THREADING™ SYSTEM & BUILT-IN NEEDLE
THREADER – Makes threading fast, easy and hassle-free.
SEPARATE BOBBIN WINDING MOTOR – You can easily wind a bobbin while sewing or embroidering.
SPEED CONTROL – Reduce the speed for precise sewing. Easy accessible on the front of your machine.
THREAD CUTTER – One touch instantly cuts the top and bobbin threads while sewing. In embroidery it cuts the threads between color changes and at the end.
LCD SCREEN – Chosen stitch is shown in the sewing direction on the screen.
AUTOMATIC TENSION – The best tension is automatically set for any stitch.
SIX LED LIGHTS – Six LED lights fill the sewing surface with light, making it easier to view your work and eliminating eye strain.
ELECTRONIC SPEED CONTROL – Full piercing power at any sewing speed makes sewing easy on any fabric.
TOP LOADING BOBBIN WITH CLEAR COVER – Threads float around the bobbin area for jam free sewing. The clear
cover makes it easy to see the bobbin supply.
EXTRA-HIGH PRESSER FOOT LIFT – It is easy to place multiple layers or bulky fabrics under the presser foot.
TWO BUILT-IN SPOOL PINS – Horizontal and vertical thread delivery are handy for twin needle sewing, speciaIty sewing and topstitching techniques.
TWO ACCESSORY TRAYS – The machine accessories are within handy reach, stored in the Removable Extension Table. Plus another extra accessory storage in the embroidery unit for easy access while embroidering.