Pfaff 560 Iron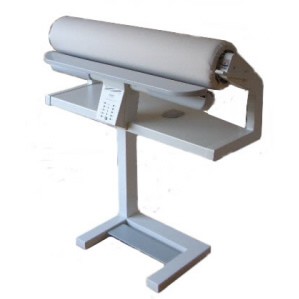 The Pfaff 560 roller press is little narrower then the 580, but just as competent. Its Ideal for medium and smaller size laundry rooms, where speed and quality of pressing is essential and again YES its a steam roller press….!
Variable speed roller with steam for quick and easy ironing. Automatic steam with 60-minute steam capacity, open ends to rollers, variable temperature control and foot pedal operation.
Collapses to vertical position for storage, castors for easy movement, large catching area for ironed laundry, minimum of maintenance.
You are comfortable in control, roller speed, stem and pressure with the foot pedal. No need to dampen your laundry before ironing.
Easy-to-read controls, simply select the steam and heat levels to match your fabric.
Using tap water? don't worry… Optical signals warn you when the water is getting low or when the water softener cartridge must be replaced.
Safe and energy-efficient, the steam is automatically turned off after 8 minutes when you take a break. If the electricity should be suddenly disconnected, the roller press can still be opened by hand.
After ironing….fold the ironer together and roll it away. It takes up about as much space as a small chair.
The dimensions of the Pfaff roller press 560
Unfolded L76 x W40 x H100 cm.
Folded L52 x W40 x H82 cm.
Roller width 67cm (26.5″)
Working height 84.5cm (33″)
Ironing width 65cm (26″)
Shoe diameter 85mm
Roller pressure 600N
Ironing speed 1.25 to 3.58 meters per minute
Thermostatic temperature control
Max Power 2.9 kW,
Water tank capacity 1.3 litres
Steaming time 60+ minutes
Voltage: 220 / 240 v
Weight 34.5kg.
Adjustable steam settings
Adjustable roller speed
Water level lamp indicator (when 10% water is left)