Pfaff Hobby 1122 Sewing Machine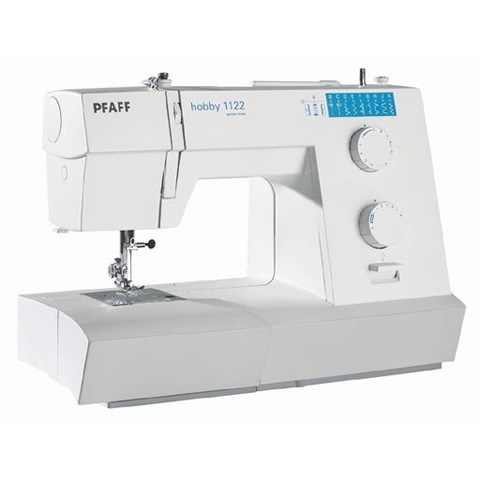 prodID: (pfaff-1122)
The first Pfaff sewing machine in the range delivers many features that more expensive machines don't even have. eg, hard protective cover
Pfaff Hobby 1122 Sewing Machine description
The Pfaff Hobby 1122 is the first Pfaff sewing machine in the range. It has 9 utility stitches inc button holes and blind stitch plus basic stitch programs for the first time sewing enthusiast. Its two control dials, one to enable the user to select the required stitch, the other to adjust the stitch length, easy..! ps… it also has a hard protective cover.
Upto 4mm stitch length in various preset stages, straight stitch in centre or left needle position for easy zip alignment.
Upto 5mm wide zig zag stitch Jam proof, top drop in bobbin with view through window Built in carry handle.
Easy to thread thanks to the marked threading path and open thread guides.
Long free arm ideal for sleeves, cuffs, and tubular items!
Horizontal thread holder for better thread lead off, stops snagging.
Simple snap on and off presser foot changing.
Sturdy hard cover protects against dust and damage.
Built in accessory tray.
Main Features
10 Stitch selections
Top loading bobbin
Variable stitch length
Variable zig zag width
4 Step buttonhole
Drop feed facility
Stretch stitches
Hard cover
Free arm storage compartment
Standard Accessories:
Buttonhole foot
Zipper foot
Zig-Zag foot
Blind Hem foot
Seam ripper
Screw driver
Set of needles
Bobbins (4)
Lint brush
Spool holder (Large & Small)
Second spool pin
Hard cover
Weight 7 Kilos