Pfaff Expression 2.0 IDT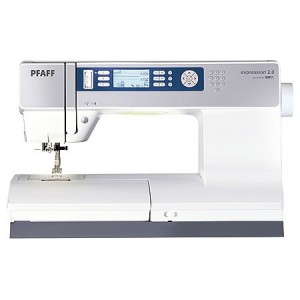 Realize your potential and experience a new dimension of sewing with the Pfaff Expression 2.0. Are you searching for new inspiration, the highest level of sewing ease, and modern technology? You will find all of this and more in the new Expression 2.0 sewing machines from PFAFF.
All it takes is one look at its unique design to understand that it is a sewers dream. With its origin in German tradition, it fits perfectly in the new generation of Pfaff sewing machines. Get ready to enjoy what the name Pfaff stands for.

Spacious.
The extra large space and the longest free-arm make sewing any size project effortless.
Bright.
The perfectly illuminated sewing area and the intuitive, clear graphic display will optimize your working process.
Precise.
The original IDT feed system guarantees absolutely even fabric feed from top and bottom. A unique selection of perfectly stitched high-quality 9 mm stitches will inspire new ideas.

Pfaff Expression 2.0, comfortable direct stitch selection via soft-touch controls, no less than 100 stitch programs, simply select and sew the right stitch for every kind of sewing work. Pfaff exclusive integrated dual feed system and automatic needle threader, infinitely-variable stitch lengths up to 6mm for professional sewing results.
Exclusive IDT guarantees perfectly even fabric feed from both the top and bottom. Sewing speed is electronically controlled from the large style foot control. And you'll find that the needle-piercing power remains consistent, even if you need to sew slowly or through several layers of fabric.
Stitch selection, simply press a button and start sewing! Everything is clearly shown, with large, easy-to-use buttons.
9 mm wide width
104 stitch programs, the right stitch for every sewing Idea.
31 utility stitches
5 buttonhole styles inc Key hole, round and stretch.
6 pictorial stitches
10 satin stitches
7 cross-stitches
16 unique quilt stitches
4 hemstitch programs
1 Basting Stitch
1 eyelet
37 needle positions for perfect seams.
Top drop in bobbin
Sensormatic buttonhole function
Automatic needle threader
Electronic speed control
Slow speed stitching button
Hard protective cover
Pattern mirror button
Needle lower/raised position button
14 Language options
220/240Volt or 110/120Volt Switch

So easy to use…

So easy to use…
At the touch of a button, the Pfaff Expression 2.0 also offers the greatest ease of operation. Skim quickly through the stitch programs by stitch number.
"Needle up / down" button, when sewing stops the needle remains in the fabric, indispensable for precise sewing and pivoting.
"Tie off" button, at the beginning and end of a seam you can automatically tie off the thread ends.
"Sew Slow" button, for particularly tricky sewing projects, reduce the sewing speed for greater control.
"Pattern mirroring" button, easily mirror decorative stitch patterns for a unique look.
Drop the feed, for free-motion quilting and embroidering.
Accessories included.. Buttonhole foot – Sensormatic, Buttonhole foot – Manual, Zipper foot, Zig-Zag foot, Blind Hem foot, Satin stitch foot, Fancy stitch foot, Free hand embroidery foot, Rolled hem foot 3mm, Edge guide, Seam ripper, Set of needles, Bobbins (4), Lint brush, Spool cap (S, M, L), Button sewing tool, Thread net, Bulb remover, Screwdriver, Instruction book, Foot control, Hard Protective cover