EMERALD 203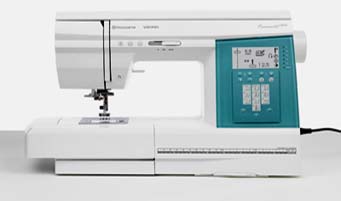 COMPUTERIZED SEWING MACHINE –Computer functions save time and make yoursewing machine easy to use. Select a stitch and the best stitch settings are set automatically and can be adjusted as needed.
INFODISPLAY™ – All settings for the chosen stitch is shown in the InfoDisplay, such as length and width. The InfoDisplay recommends thread tension and presser foot.
EXTENSION TABLE INCLUDED – Gives ample space for sewing and embellishing quilts, home dec projects and garments (only EMERALD™ 203 sewing machine).
DUAL FEED FOOT INCLUDED – Makes it easy to sew multiple layers of fabrics smoothly and evenly (only EMERALD™ 203 sewing machine).
STITCHES – Utility stitches and stretch stitches for sewing and mending, and decorative stitches for creative projects. The EMERALD™ 203 sewing machine features 103 stitches and EMERALD™ 183 sewing machine features 83 stitches.
DESIGNED IN SWEDEN – Designed with ease of use for all sewers.
ADJUSTABLE STITCH LENGTH AND WIDTH – Adjust stitch width up to 7mm and stitch length up to 4.5mm for specialty sewing.
SEWING GUIDE REFERENCE CHART – Refer to your built-in Sewing Guide Reference Chart for recommended presser foot, stitch length and stitch width for your fabric type and weight.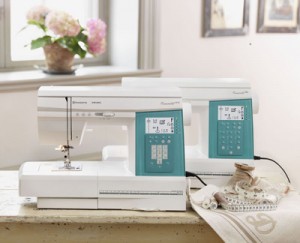 ONE-STEP BUTTONHOLE – Quick and easy repeatable one-step buttonholes with snap-on buttonhole foot.
MEMORIES – Save your favorite stitch programs in one of the memories.
The EMERALD™ 203 sewing machine has 8 memories with 20 positions each.
EMERALD™ 183 sewing machine has 4 memories with 20 positions each.
PROGRAMMABLE ALPHABETS AND NUMBERS – Sew name tags, labels and more to personalize your project. Block and Script alphabets on EMERALD™ 203 sewing machine and Block alphabet on EMERALD™ 183 sewing machine.
FIX FUNCTION – Touch FIX to stop sewing and tie off any stitches instantly.
STOP FUNCTION – Touch STOP to finish sewing a complete stitch and tie off automatically.
MIRROR IMAGE SIDE-TO-SIDE – Flip stitches side-to-side for unlimited creative sewing.
ELONGATION – Rescale your stitch while maintaining stitch density.
NEEDLE UP/DOWN – One touch sets the needle to stop up or down at any time for pivoting, appliqué, accurate sewing and more.
BUILT-IN NEEDLE THREADER – Built-in needle threader saves time and eliminates tedious hand threading.
SNAP-ON PRESSER FEET – Change presser feet quickly and easily.
ADJUSTABLE PRESSER FOOT PRESSURE – Sew any fabric weight and type with perfect results.
BUILT-IN RULER – Centimeter/ruler inch on machine lets you measure fabrics, trims and ribbing at your fingertips.
HARD COVER – Machine protection with pocket for Users Guide.
ROTARY HOOK SYSTEM – Smooth sewing with no hassles.
DROP FEED – Easy to lower feed teeth for button sewing, free-hand stippling and embroidery.
ACCESSORY KIT – Complete with bobbins, screwdriver, seam ripper, set of needles, 10 presser
feet and a quilting guide.