Pfaff Coverlock 3.0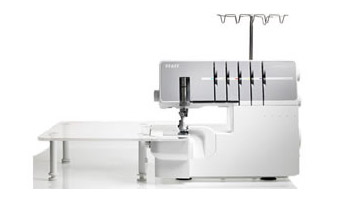 Pfaff Coverlock 3.0 Overview
5 threads, unbelievable sewing space, The professional coverstitch and a lot more Welcome to the new Pfaff Coverlock 3.0, a machine that is both a overlocker and coverlocker in one ! As a overlocker you get a two, three, four, and even 5 thread finish that will overlock different types of fabrics with a full professional finish . As a coverlock , you get a narrow, wide and triple stitch which means that you can sew , finish and hem in one stitch. Use the coverstitch to finish neck and armhole edges or turn up the end of tee shirts or sweat shirts in one go. They are 23 stitches waiting for your ideas and with a large working space, extension table and easy threading along with traditional Pfaff reliability , the Pfaff coverlock will truly make a great sewing companion.
Pfaff Coverlock 3.0 features
5, 4, 3, 2 thread sewing

– many options for utility and decorative sewing

Spacious

Large sewing space

– more space for coverstich projects.

Extension table included

– gives an extra large support for beautiful results

23 stitches

– trim, stitch, overcast and decorate projects in half the time.

Coverstitches

– great for sewing elastic hems, perfect for finishing all kind of knitwear.

Chainstitch

– Join fabric layers where a traditionally pressed open seam is required. Works well as a basting stitch.

5-thread overlock

– combines two stitches for durable and reliable seams.

4-thread overlock

– reinforced overlock stitch for perfect sewing, trimming and finishing.

3-thread overlock

– wide and narrow overlock seams and decorative techniques.

2-thread overlock

– rolled edge and flatlock, wide and narrow.

Built-in rolled edge

– sew 2 or 3-thread rolled hems quickly without changing the presser foot or stitchplate.

Auto Tension Dial

– you select the desired stitch and thread tension is automatically set.

Tension release

– threads pull easily when presser foot is up

German Innovative Design

– build to make sewing easy and to achieve the professional results that the sewer wants.

Easy to change from overlock stitches to coverstitches

– No needle plate/presser foot change needed at conversion for different stitches

Differential feed

– adjustable for perfectly even seams, no stretching of the seam or puckering of fine fabrics.

Speed

Sews 1100 stitches per minute

– sew faster, save time.

2 sewing speeds

– When you want more precision use the slower speed.

Lay-in tension and color coded thread paths

– for quick and convenient threading.

Adjustable stitch length, cutting width and presser foot pressure

– choose optimal settings for different fabrics and techniques.

Extra presser foot height

– room for several layers or heavy fabrics.

Electronic piercing power

– stitch-by-stitch control with full piercing power at all speeds.

Presser feet

Universal Standard presser foot

– can be used with all built-in stitches.

Snap-on presser feet

– easy to change to optional feet for specialty techniques.

Optional feet

– a wide range of optional accessories to enhance your sewing results.

Movable upper cutter

– disengage the cutter for special techniques.

Built in two thread converter

– easy conversion to 2-thread stitches.

Easy threading instructions

– step-by-step interactive DVD.

Thread cutter

– conveniently placed for quick cutting of threads.

Built in extended carrying handle

– move the machine without tangling the threads.

Waste tray

– catches fabric trimmings.

Safety lockout

– when the front cover is open the machine will not sew.