Pfaff Select 3.0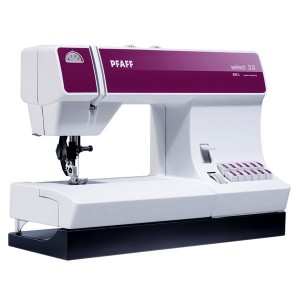 What makes the Pfaff select 3.0 special..! reliability, strength, precision plus 27 stitch programs, easy to use program soft touch buttons, extra slim free arm, high presser foot lifter and constant, powerful needle piercing power, even when sewing slowly through several layers of fabric. This select 2 machine fits the bill, even stitch selection, simply press a button and start sewing! Everything is clearly shown, with large, easy-to-use buttons.
It also Includes Pfaff's IDT Feed System.

27 utility stitch programs, covers a wide range of stretch stitches.
Automatic buttonholes in adjustable widths. Sew them easily without having to turn the fabric.
Infinitely variable stitch width up-to 5.5mm and length up-to 6.0mm.
15 needle positions, for perfect topstitching and accurate seams.
Electronic speed control, gives full motor power even at slow speeds, you can switch between two speed settings, one will slow the novice sewer down, the other setting will make full use of the powerful 90 watt motors speed….
Snap-on presser feet.
Drop feed.  Ideal for quilting and free hand embroidery.
Pfaff's rotary hook action, front loading.
Large accessory storage area, swings or remove it to use the long, extra slim free arm.
Hard durable plastic cover and storage for foot control and accessories.
At the heart of every Pfaff Select there is a rugged, yet light weight Aluminum body.

Standard Accessories:
Buttonhole foot
Zipper foot
Zig-Zag foot
Overlock foot
Blind Hem foot
Quilting Guide
Seam ripper
Screw driver
Set of needles
Bobbins (4)
Lint brush
Spool holder (Large & Small)
Second spool pin
Hard cover