Pfaff Creative Vision 2.0 IDT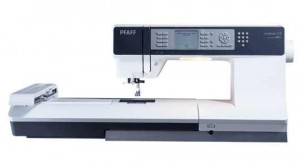 Sewing and embroidery machines are the newest members of the creative series of Pfaff machines. Created using the new Pfaff platform which set an industry-wide standard for sewing space (250mm, 10 inches, space to the right of the needle), the Pfaff Creative 2.0 machines provide sewers an intuitive user interface that enables the creation of complex and large embroidery designs with a touch of a stylus.
Brand new features include automatic Cut Jump Stitch, tapering with patchwork, new beading and candlewicking stitches, and the ability to see how much time it will take to embroider a color block. Yes it has a lot of functions.. view the video and read on…
The Pfaff original IDT feed system guarantees absolutely even fabric feed from top and bottom.

Large sewing space. The sewing area to the right of the needle is super-sized for sewing large projects.
Large embroidery area. The creative 2.0 has a large embroidery area – up to 260 x 200 mm for your unique, personal creations.
A wide variety of beautiful 9 mm stitches. Select from 153 stitches. Includes utility stitches, buttonholes, 9 mm wide decorative stitches, quilt stitches, cross stitches and hemstitches.
More than 100 fantastic embroidery designs included. Created by fashion designers for the PFAFF creative sewing and embroidery machine line.
USB connection. Transfer embroidery designs quick and easy between your creative 2.0 and your computer with the USB Embroidery Stick.
USB Embroidery Stick included. The USB Embroidery Stick is a 1 Gb size and can hold all designs included with the machine plus a lot more.
Thread Snips. Automatically cuts top and bobbin thread at the touch of a button or wherever you have it programmed.
Cut Jump St itches. Embroidery jump stitches are cut automatically and the thread tails are pulled to the under side of the fabric for quick, clean finishing.
Automatic presser foot lift. Raises the presser foot to pivot position automatically when the needle is set to stop down. The presser foot lifts at the end of a seam or embroidery design and after a thread snip.
Extra presser foot lift. Raises the presser foot to its highest position so that thick fabrics can be placed easily under the presser foot.
Two Free-motion modes. Choose between Sensormatic or Spring foot free-motion mode for best results with various techniques and fabrics.
Stitch Width Safety. Limits stitch width to center needle straight stitch while using straight stitch needle plate and/or straight stitch foot to prevent needle breakage.
Stitch Positioning. Moves complete stitch right or left to align decorative stitches.
Automatic Tie-off. Ties off automatically at the beginning and/or the end of a seam for a quick and easy finish.
Stitch Sequencing and memories. Combine and save up to 40 stitches and/or letters in one of 10 sequence memories – sew in one step repeatedly.
Personal Stitch Settings. Change the settings on built-in stitches to your personal liking. Save in one of the 10 personal stitch memories.
Program Sequencing commands. Program Stop, Thread Snips or Tie-off into a stitch sequence. Your sequence does exactly what you want every time.
2 built-in sewing alphabets. Upper case, lower case plus numbers and symbols to personalize any sewing project.
Needle Up/Down. Touch a button to set your needle to automatically stop up or down in the fabric for pivoting, appliqué and more. Or just tap the foot control to shift between needle up/down position.
Tapering on all 9mm decorative stitches! Gradually increase or decrease the width at the beginning and/or at the end. Choose different angles for more creative opportunities.
Twin Needle Program. Automatically adjusts the stitch width to prevent needle breakage.
Permanent Reverse. Your hands are free to guide your fabric.
Sensormatic Butt onhole. Makes beautiful repeatable buttonholes on any fabric.
37 needle positions. Variable needle positions for precise stitching. Perfect for topstitching, quilting, zippers and more.
Bobbin winding from the needle. No need to rethread to wind bobbins when you wind directly from the needle. Winding stops automatically when your bobbin is full.
Large stitch plate. Markings to the left and right of the needle help you guide your fabric.
Button Ruler. Quickly determine your buttonhole size with the help of the button ruler.
Two built-in spool pins. For twin needle sewing or specialty sewing.
Basting in the Hoop. Baste fabric to a stabilizer that is already hooped. Also great for knit fabrics or other fabrics that you do not wish to hoop.
Quickfont software included. Load the windows software onto your PC and automatically convert TrueType fonts form your computer into embroidery text.
Organizer software included. After loading onto your PC, use this embroidery software to organize, save designs as image files and convert embroidery designs into different formats, plus lots more.
Hoop Positions. Easily positions the hoop to change the bobbin, trim around an applique or to go to the center of the design. Embroidery font included. Upper case, lower case plus numbers and symbols to personalize any embroidery project.
Design placement. Moves the embroidery design in four directions and rotate it in 90 degree steps.
Design scaling. You can increase or decrease the design up to 20% from the original size.
Orbit to Check Position. Checks the exact position of the embroidery design on the fabric in the hoop. Helpful when placing several designs next to one another.
Move through the entire design. No matter where your creative 2.0 is in the embroidery, you can always step stitch-by-stitch or between the color blocks, forward or backward, to embroider only part of the design.
Multi-colored or Monochrome embroideries. The choice is yours! Set your creative 2.0 for monochrome mode to sew the complete design in one color without color stops.
Dual lights. Optimized bright lights illuminate your entire sewing area without shadows.
Illuminated graphic display.The graphic display shows the stitch in actual size and all important information. It also shows the monochrome picture of embroidery design.
External feed dog drop. Convenient location to lower the feed dogs from the front of the machine. Ideal for stippling, free-motion embroidery or darning.
Electronic thread tension. Needle thread tension is set electronically for different stitches and embroideries – makes sewing simple.
Easy-access stitch selection. Quick and easy stitch and embroidery design selection using the Direct Selection Buttons.
Top and bobbin thread sensor. Alerts you when your bobbin or needle thread is running low.
Speed ranges. Adjust your sewing speed for specialty threads, techniques or personal taste.
Stitch Restart. Instantly returns to the beginning of your selected stitch, sequence or embroidery design.
Mirror Image. Flip the stitch or embroider design side-to-side and/or end-to-end for even more creative possibilities.
Electronic Needle Piercing power. Full piercing power at any speed with total control.
Languages. Choose from 14 different languages in the Settings menu. Plus its dual voltage.
Accessory included. Standard foot with IDT, Fancy stitch foot with IDT, Fancy stitch foot, Blind hem foot with IDT, Zipper foot with IDT, Sensormatic buttonhole foot, Manual buttonhole foot, Sensormatic free-motion embroidery foot, Rolled hem foot with IDT, 1/4″ Quilting Foot with IDT, Knee lifter, Hard protective cover, Instruction manual, plus needles and more… for embroidery two hoops Square 120×120 and Large 260×200 hoop plus a embroidery kit including 5 large embroidery threads, wadding, stabiliser and fabric to get you started…