Pfaff Coverlock 4.0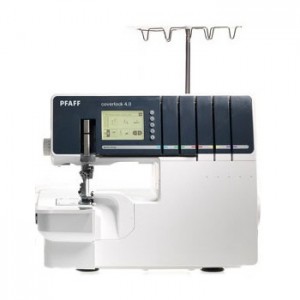 The Coverlock 4 adds that professional touch to every project. Perfect seams quickly, with results equal to those of professional machines. Pfaff's new creative Coverlock 4.0 is the ultimate in creativity: You can easily choose one of the stitches and all information for the stitch is shown. The optimal thread tension, stitch length and differential feed have already been set. You can change these settings as needed and then save your new settings for future use!
And it can do even more…!
The LCD graphic touch screen on the coverlock 4.0 overlocker offers the highest level of sewing convenience. The selected stitch and all important information can be seen at a glance. The optimal thread tension, stitch length, and the differential feed are set automatically. You can start sewing immediately. The extended Info system gives more information on the use of each stitch, right at your fingertips. All stitch settings can be individually changed. Give them unique names and save them to be called up and used, as needed. The last stitch function remembers the last stitch sewn when powering back on to instantly continue your project.
This 4.0 Coverlock combined overlock and cover hem has all the features on the 3.0 plus…
In total 25 beautiful stitches! 3 needles, up to 5 threads, and chain stitches!
Professional: 3 top cover stitches extremely durable and can be used as decorative stitches. Also 3 cover stitches: 5 mm / 2.5 mm and the triple cover stitch for sewing stretch fabrics or creating decorative effects
The optimal thread tension is preset. It can be easily adjusted as needed for special fabrics and threads, can be fine tuned in small increments!
Absolutely even seams! Differential feed prevents seams from stretching or puckering. The differential feed can be individually adjusted as needed
The stitch length is set automatically and can be fine tuned in small increments!
Individual setting adjustments can be made at any time and can be saved in one of three memories for each stitch!
The quality of the best industrial machines. Accurate thread tensions, quiet, vibration-free sewing, thanks to rotary control
Tension-release button for the needle threads. You can easily remove your project from underneath the presser foot
True industrial seams! The 5-thread overlock stitch and the double chain stitch for heavy-duty seams
Sew rolled hems easily without having to change presser foot or needle plate
The decorative 2-thread flatlock stitch is extremely flat and elastic. Perfect for swimwear and decorative effects
Infinitely adjustable sewing speed, On fine fabrics or heavy; when sewing slow or fast the needle piercing power and cutting power remain consistent. When the going gets tough, simply reduce the sewing speed dial..!
Super-easy threading! The display shows which thread tensions to use. In addition, the coverlock 4.0 offers threading help and all threading paths are color-coded
Each fabric is fed with ease. Choose from 5 presser foot pressure settings
High presser foot clearance for working with several layers or heavy fabrics
Safety first! Your Pfaff coverlock 4.0 will not sew when the looper cover or swivel table are opened
Includes a large selection of accessories in the practical accessory box! Sewing table with ruler, additional spool holder for decorative stitches, converter, needle threader, and much more
Select desired stitch and all important information is displayed in the information panel, including stitch length and number, needle positions, differential feed setting, seam width, ten language options and much more.
Adjust seam width up-to 6mm and stitch length up-to 4mm
Built in fabric off-cut tray and coverlock extension bed
Included is the larger extension table 36cm wide x 43cm deep
Memory function, save your personal settings for each stitch, uniquely naming them for instant recall.
Perfectly even seams – The differential feed prevents the seam from being stretched or puckered. Even knitwear remains flat. Wave like effect can be achieved by reversing differential feed.
No matter what the thickness of the fabric or the sewing speed, the needle piercing power and cutting power remain highly consistent.