Pfaff Hobbylock 2.0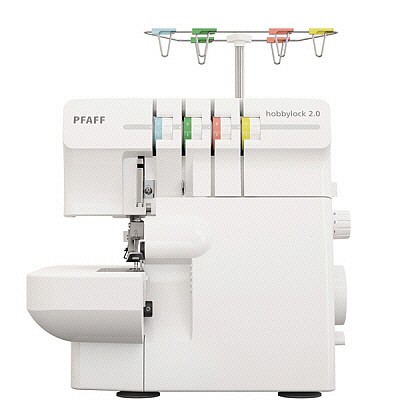 The Pfaff Hobbylock 2.0 is robust and has additional features, like special threading aids, 15 stitches and differential feed.
Hobbylock 2.0 will give you professional results!
Differential feeding provides a specially beautiful finish. By changing the rate of feed you can obtain the perfect setting according to the fabric. The feed can easily be adjusted by turning a dial on the right side of the machine, even while sewing! So stretching the fabric to make frills or using a combination of stitches to open up creative horizons is easy.
An overlock machine is an absolute must for sewers who value a perfect finish. You'll be surprised how much there is to discover.
It offers 15 stitch programs, a range of features with which you can sew on a variety of fabrics, and amazing ease of use. Edge finishing, rolled hem or flatlock stitch, the Pfaff hobbylock 2.0 does it all. Of course, the differential feed guarantees smooth, even seams even at speeds upto 1300 stitches per minute. The new Pfaff hobbylock 2.0 is very easy to use either using 2, 3 or 4 threads depending on the overlock function you are sewing.
Adjustable stitch length
Adjustable cutting width
Adjustable differential feed ratio
None cutting function