Frister Rossmann Knitlock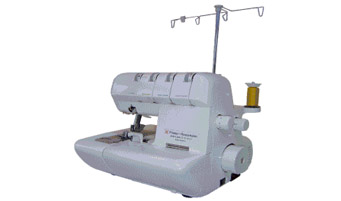 Knitlock Overview
Our heavy duty overlockers have a "swing away" cutter for easy access for threading and cleaning are are recommended for regular use with both fine and heavier fabrics.
This superbly engineered 2 needle, 2/3 or 4 thread convertible electronic overlocker with differential feed is a favourite among machinists demanding a range of easily produced professional looking finishes way beyond those possible with a sewing machine.
The two thread ability of this machine is important where a very good looking finish is required on the edge of fabrics but added strength is not needed such as wraps, table napkins and lingerie.
Knitlock features
Top "Lay In" Tensions
2, 3 or 4 Thread
Built in Rolled Hem
Tension Release
Versatile use as a two, three or four thread overlocker
Differential feed for smooth waver free and pucker free seams on knitwear and sheer fabrics
Full control with the foot pressure regulator
Stitch width and length easily adjusted even while sewing using the clear front mounted dials
Lint tray to keep your work area clean
Sewing light for use in difficult lighting conditions
Dust cover to keep your overlocker fresh and clean