JUKI Double Needle LH-3528 and LH-3578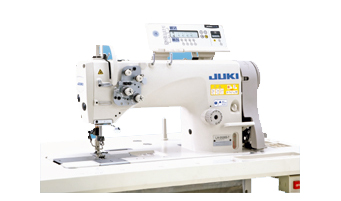 JUKI Double Needle LH-3528 and LH-3578 Overview
An operators using the LH-3500 can easily adjust the seams after changing sewing conditions such as the material, thread, tooling, and settings. The LH-3500 is a basic 2-needle model with upgraded functions and a reasonable cost.
All models of the LH-3500 Series are provided with a semi-dry head to eliminate staining with oil from the frame (the needle bar part).
With its widely adjustable thread tensions, the LH-3500 can sew materials of many weights, from light to heavy.
The increased width and height between the arm and needle help reduce operator fatigue.
A new and more reliable thread-trimming mechanism is also adopted.
Model name
LH-3528
LH-3528-7
Application
A: Light-weight, F: Foundation, G: Jeans and heavy-weight
Max. sewing speed
3,000rpm
Max. stitch length
5mm (F type: 4mm)
Needle gauge

2.4~38.1mm (3/32″~1-1/2″)

3.2~31.8mm (1/8″~1-1/4″)

Presser foot
By knee: 13mm, By knee with wiper: 9mm
Needle

A: DP×5 (#9) #9~#16
F: DP×5 (#10) #9~#16
G: DP×5 (#21) #16~#22
Model name
LH-3578

LH-3578-7

Application
G: Jeans and heavy-weight
Max. sewing speed
3,000rpm
Max. stitch length
5mm
Needle gauge

4.8~38.1mm (3/16″~1-1/2″)

4.8~12.7mm (3/16″~1/2″)

Presser foot
By knee: 13mm, By knee with wiper: 9mm
Needle
G: DP×5 (#21) #16~#22