Brother Innov-is 1800Q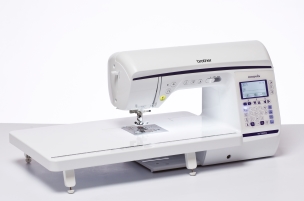 Brother Innov-is 1800Q Overview
The brother Innov-IS 1800Q is a fabulous sewing machine with advanced functionality. Equipped with a fabulous range of stitches, a wide table and an array useful features, this machine is ideal for quilting enthusiasts and experienced fashion sewers.
The Brother Innov-IS 1800Q gives you an impressive 234 built-in stitches to choose from. These include 99 utility stitches, 133 decorative stitches and 10 styles of automatic one step buttonhole. You have all the options required to help you to produce professional looking work and to explore your creativity. Stitch width and stitch length are adjustable and stitch selection is simple via the touch sensitive keypad. The large LCD screen displays all the information that you need. You can combine and edit stitches, create your own stitches and commit new stitches to the machine's memory.
This machine features Brother's Square Feed Drive System (SFDS) which means that different weights of fabric will all feed smoothly and the excellent stitch quality is always maintained. The Brother Innov-IS 1800Q also includes a sideways feed for even greater versatility. Speed control makes tackling intricate work easier and you have a pivot function so you can sew around corners with ease. The knee lift means that you can sew with both hands on your work at all times and this machine also features a lock stitch button, a presser foot up/down button and fully automatic thread tension.
The Brother Innov-IS 1800Q lets you explore your potential to the max. With a fabulous selection of stitches, the ability to create your own and such exceptional functionality at your fingertips, what more could you ask for?
Brother Innov-is 1800Q Feature
Large 8.3″ (210mm) work space to the right of the needle
234 built-in stitches
133 Decorative stitches
10 styles of one step button holes
5 styles of lettering upper and lower case
Square Feed Drive System (SFDS) deliver's smooth strong feed
ICAPS – Continuous Automatic Pressure System
Fully automatic thread tension
Large clear LCD display
Sideways feed
Knee Lift
Pivot function
Touch sensor keypad with direct stitch selection
Slide speed control
Lock stitch button
Presser foot up/down button
Combine and memories stitches
My Custom Stitch – design your own stitches
Includes large wide table
Hard Case