JUKI LH-4128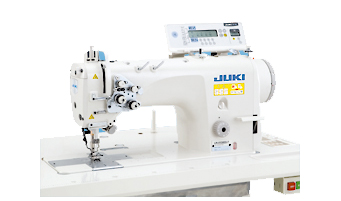 JUKI LH-4128 Overview
The machine achieves the world's highest sewing speed of 4,000rpm as a semi-dry-head machine, contributing to increased productivity.
Simple adjustments of the machine and replacement of gauges have been enabled, saving time and effort in maintenance.
In addition, it is possible to change over the feed between the needle feed and bottom feed.
JUKI LH-4128 Specification
Model name
LH-4128
LH-4128-7
Application
Light- to medium-weight
Light- to heavy-weight
F: Foundation, S: Medium-weight, G: Jeans and heavy-weight
Max. sewing speed
4,000rpm
Max. stitch length
5mm (F type: 4mm)
Needle gauge
3.2~38.1mm (1/8″~1-1/2″)
3.2~31.8mm (1/8″~1-1/4″)
Presser foot
By knee: 12mm, By knee with wiper: 9mm
Needle
F: DP×5 (#10) #9~#11
S: DP×5 (#14) #9~#16
G: DP×5 (#21) #16~#22