Brother Innov-is 2600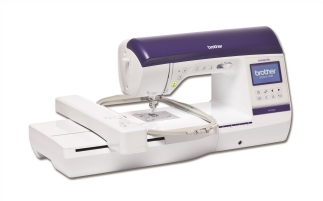 Brother Innov-IS 2600 Sewing and Embroidery Machine
Open up an exciting world of both sewing and embroidery with the Brother Innov-IS 2600. This fabulous all-in-one machine features a fabulous selection of stitches and patterns together with highly advanced functionality. Professional sewing and embroidery are at your fingertips with this impressive machine.
The Brother Innov-IS 2600 gives you an incredible 232 built-in stitches including 133 wonderful decorative options and 10 styles of one step automatic buttonhole. There are also 138 built-in embroidery patterns you can use to create beautiful embellishments. You can adjust your stitch length and stitch width and My Custom Stitch enables you to create your own stitches and save them to the machine's memory. You have powerful editing facilities for your patterns and so you are able to re-size, rotate and mirror your designs plus much more. You have 11 different fonts for monogramming and a generous work area.
Stitch, pattern selection and editing are easy via the LCD touchscreen and the automatic needle threader and quick set drop in bobbin mean that you are ready to start sewing in no time. You have a great view of your work with the LED lighting and speed control for handling intricate work. The Square Feed Drive System means that all of your fabrics will feed beautifully and the excellent stitch quality is always maintained. The Continuous Automatic Pressure System (ICAPS) detects the thickness of your fabric and makes the appropriate adjustments and you have sideways feed functionality too.
The Brother Innov-IS 2600 is the complete sewing and embroidery machine and will deliver professional results time after time.
Features
Colour LCD touch screen
160 x 260 mm embroidery area
138 Built-in embroidery patterns
232 Built-in Stitches
10 Styles of automatic buttonhole
11 Embroidery fonts
Adjustable stitch width
Adjustable stitch length
My Custom Stitch
Automatic needle threader
Quick set drip in bobbin
Speed control slider
LED lighting
Knee lift
Fully automatic thread tension
Sideways feed
Square Feed Drive System (SFDS)
Powerful editing facility including re-sizing, rotating, mirror imaging and more
Pivot function
ICAPS – Continuous Automatic Pressure System
Accessories Included
Embroidery foot "U"
Embroidery frame set (extra large) 26 cm (H) × 16 cm (W) (10-1/4 inches (H) × 6-1/4 inches (W)
Embroidery frame set (large) 18 cm (H) × 13 cm (W) (7 inches (H) × 5 inches (W)
Free motion open toe quilting foot "O"
Walking foot
1/4″ quilting foot
Quilting guide
Side cutter "S"
Stitch guide foot "P"
Adjustable zipper/piping foot
Non-stick foot
Open toe foot
Hard case
Zigzag foot "J" (on machine)
Buttonhole foot "A"
Overcasting foot "G"
Blind stitch foot "R"
Zipper foot "I"
Monogramming foot "N"
Button fitting foot "M"
Grid sheet set
Accessory bag
Seam ripper
Needle set
Bobbin (4) (One is one machine.)
Cleaning brush
Spool cap (large)
Spool cap (medium) x2
Spool cap (small)
Spool net
Screwdriver (large)
Screwdriver (small)
Eyelet punch
Horizontal spool pin
Twin needle
L-shaped screwdriver
Disc-shaped screwdriver
Alternate bobbin case (no colour on the screw)
Scissors
Embroidery bobbin thread (60 weight, white)
"Thread spool insert (mini king thread spool)"
Foot controller
Knee Lifter
Hard case
Operation manual
Quick start guide