Designer Diamond DeLuxe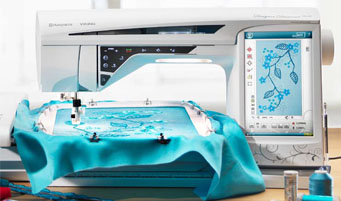 DELUXE™ STITCH SYSTEM
The unique HUSQVARNA VIKING® deLuxe™ Stitch System has two ways to feed the needle thread. It automatically selects the best stitch system to improve the balance between needle thread and bobbin thread. All for your convenience.
• Thread Portioning feeds the correct amount of thread for every stitch no matter what thread type or fabric thickness
when sewing or embroidering.
• You can select Thread Tension for specific techniques and/ or accessories.
ENDLESS OPPORTUNITIES
New ways to enhance your embroidery experience and make it easier than ever.
• DESIGN POSITIONING
− Match your embroideries perfectly every time.
− Design Positioning Wizard makes it so easy.
• DESIGN SHAPING
− Create original embroideries using any stitch and/or embroidery designs.
• TAPERING IN THE HOOP
− Create tapered stitch combinations in the hoop to make borders and more.
• EMBROIDER BUTTONHOLES AND DECORATIVE
STITCHES IN THE HOOP
− Choose and combine any of the built-in buttonholes and decorative stitches in the hoop to embroider perfectly
placed buttonholes and stitches on your project.
• UNDO/REDO IN EMBROIDERY EDIT
− Time saving feature to assist you when creating or editing a design combination.
• DESIGN STITCH OUT ORDER
− Select several embroidery designs to move or adjust and embroider in one hooping, they don't even have to be in
order. After you're done with your editing -you just select which order you want to stitch them out.
PERSONALIZE YOUR DESIGNER DIAMOND DELUXE™
Choose between colorful screens of the Ultimate
Interactive Screen for personalization of your DESIGNER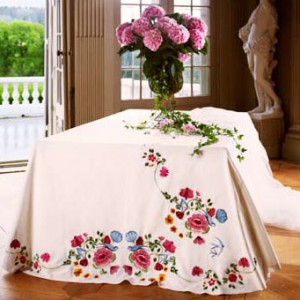 DIAMOND deLuxe™
5D™ ORGANIZER AND 5D™ QUICKFONT
SOFTWARE INCLUDED
Communicate from your PC to the machine
• Organize your designs, add trim commands, create image files, print catalogs and more.
• Convert any True Type font from your computer to an embroidery font.
DESIGNED AND ENGINEERED IN SWEDEN
HUSQVARNA VIKING® brand has developed superior
quality sewing machines with cutting-edge technology for
nearly 140 years
ULTIMATE INTERACTIVE SCREEN
Easy to navigate through various screens for sewing, editing,
and embroidery
• Large (6 7/8'' x 4 1/8'', 174 x 104 mm) full-color touch screen with high resolution (800 x 480).
• User-friendly graphic interface designed by sewers for sewers.
LARGE SEWING SURFACE
Sew large quilts, home dec projects and garments easily
• Long free arm for ease of sewing, nearly 10" (250 mm).
LARGE EMBROIDERY AREA
You can create and embroider large designs up to 14 1/4'' x 13 3/4'' (360x350mm) without re-hooping
• Three embroidery hoops included: DESIGNER™ Splendid
Square Hoop 4 3/4'' x 4 3/4'' (120x120mm), DESIGNER™
Crown Hoop 10 1/4'' x 8'' (260x200mm), DESIGNER™
Royal Hoop 14 1/4'' x 8''(360x200mm).
• Several optional hoops available for special techniques like endless embroideries, quilting, textured embroideries and much more.
• HUSQVARNA VIKING® is constantly developing new hoops and accessories for various techniques.
DESIGNER™ SELECTION
Endless opportunities to be creative
• Over 1100 stitches.
• 6 sewing alphabets, with both upper and lower case letters, for easy programming.
• 380 embroidery designs.
• 4 embroidery alphabets, in three different sizes with both upper and lower case letters.
EMBROIDERY DESIGN EDITING
New ways to enhance your embroidery experience and make it easier than ever.
• DESIGN SELECT PLUS GROUP AND UNGROUP
− Quickly select one or many embroideries for editing and personalization.
− Create a group of selected designs on screen for editing.
• COLOR BLOCK SORT AND COLOR BLOCK MERGE
− Intelligently sorts equal colors in a sequence for easy handling.
− Eliminate color stops in large or combined designs.
• RESIZE
− Enlarge or reduce an embroidery design to the exact size you need.
− Recalculates the number of stitches so the resized embroidery has best density.
− Choose Retain Fill Type and keep the original fills as the design is resized.
EXCLUSIVE SENSOR SYSTEM™
Automatically and continuously senses and adjusts as you
sew any thickness of fabric for perfect even feeding
• SENSOR FOOT LIFT
− Presser foot lowers and raises automatically for every sewing technique.
− Four positions: down, pivot, up, extra lift.
− Automatically lowers feed teeth on extra lift for maximum space to slide thick fabrics and quilts under the foot easily.
• SENSOR FOOT PIVOT
− Stop with needle down, foot senses thickness of fabric.
− Automatic float position for instant pivoting, easy appliqué and quilting.
− Your hands are free to guide the fabric.
• SENSOR FOOT PRESSURE
− Continuously senses the fabric thickness and automatically adjusts the presser foot pressure.
EXCLUSIVE SEWING ADVISOR®
Select fabric type and sewing technique, and the Exclusive
SEWING ADVISOR® feature will instantly set everything for you:
• It sets the best stitch, stitch width, stitch length, thread portioning/tension and presser foot pressure.
• The stitch is displayed with the recommended presser foot and needle size and type on the Ultimate Interactive Screen.
• Extended Sewing Advisor ® provides more fabric and technique information.
EXCLUSIVE HUSQVARNA VIKING® EMBROIDERY ADVISOR™
Select fabric type and the exclusive EMBROIDERY ADVISOR™
provides recommendations for beautiful embroidery results!
• Offers suggestions for needle, stabilizer, top and bobbin thread.
• Includes tips for embroidering with specialty fabrics and specialty threads.
ADJUSTABLE E LIGHT™ System
Set machine lighting for your sewing environment and fabric color
• See fabric and stitches in true color.
• Adjust intensity and color tone, giving optimum light for sewing.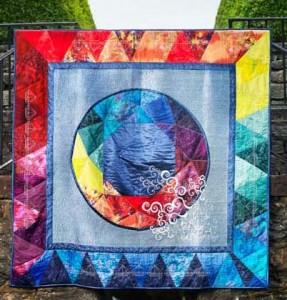 SMART SAVE
Save your embroidery with all adjustments when you stop
embroidering or before power is turned off
• Choose to automatically save and your Designer Diamond deLuxe™ will remember your place in your current embroidery if your embroidery is interrupted.
• Choose to manually save your place whenever you want.
USB CONNECTION
Two USB ports allows for smooth transfer of designs and updates Your machine is always up to date, find the latest software
• version on the Internet. For your convenience, the DESIGNER DIAMOND
• deLuxe™ machine also reads the mot popular design formats.
AUTOMATIC JUMP STITCH TRIM
Eliminate trimming time as you create beautiful embroideries Cuts your embroidery jump stitches automatically and
pulls the thread tail to the back side of the fabric for quick finishing.
• The machine is also equipped with a selective thread cutter, which cuts only the top thread at each color change for quick and easy thread change.
BUILT-IN SUPPORT
Instant on-screen explanation Quick Help: Touch any stitch, icon or function to see its name and description.
• Information menu displays illustrated information, Text, Index and Category help.
DESIGNER DIAMOND DELUXE™ EMBROIDERY UNIT
Keep your embroidery accessories at your fingertips with the built-in accessory tray
• Embroidery unit can be left on while sewing giving you an added sewing surface.
• Embroidery unit bag included for easy carrying and storage.
NEEDLE STOP UP/DOWN
Set Needle Stop Up/Down for pivoting, appliqué and more
TWIN NEEDLE SEWING
See the stitch in actual size before you sew
• The Ultimate Interactive screen shows you how our stitch will look when sewn with your selected twin needle size.
• When set for twin needle sewing, your machine will automatically limit the stitch width for the selected twin needle size to prevent needle breakage.